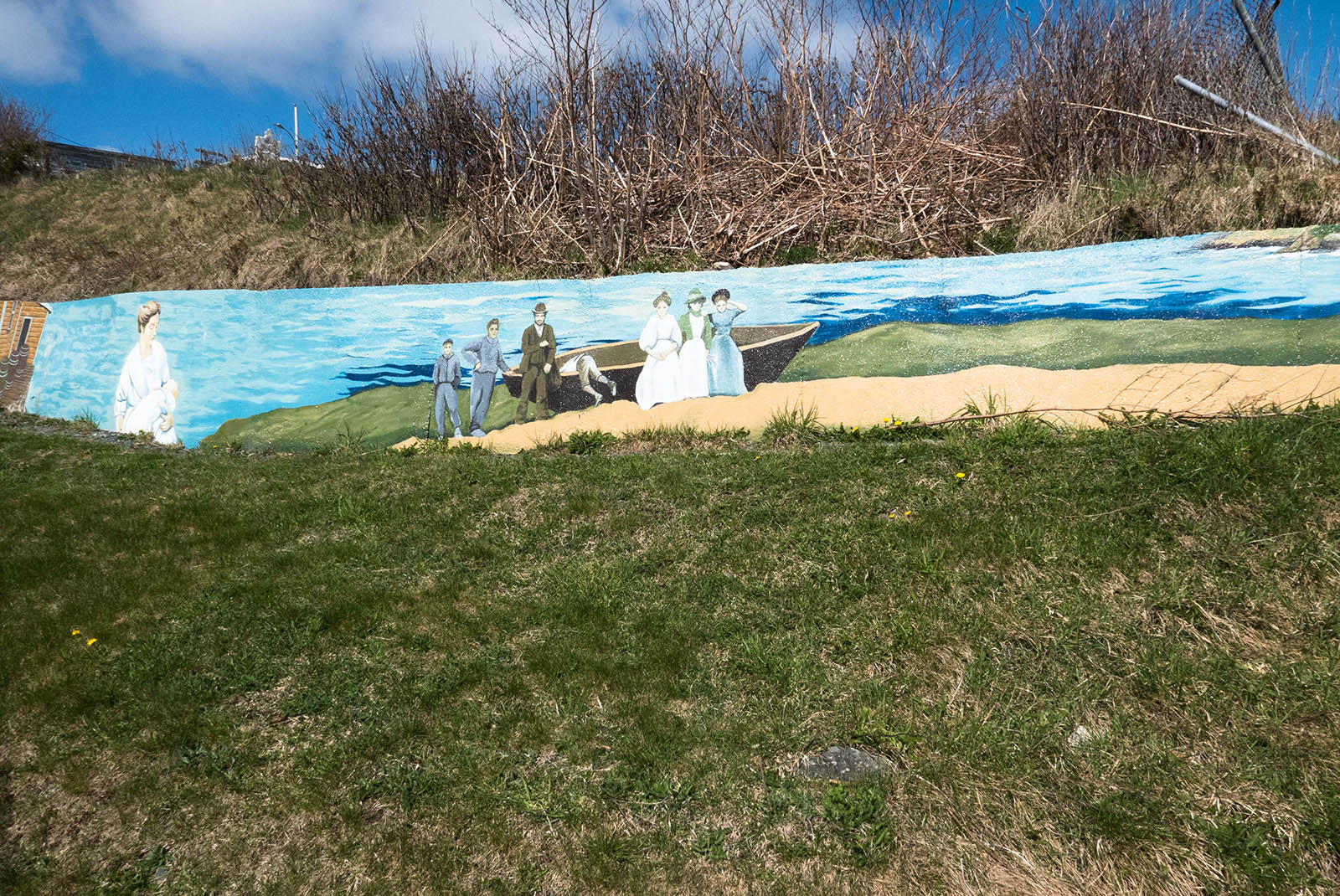 Photograph by Bob Brink
⇦ back
Torbay Beach Elegy
by Ginok Song
Torbay Beach, Torbay
Torbay, NL A1K 1B3
Go to map ↓
The Town of Torbay commissioned Ginok Song to create a mural on the retaining wall on the hillside at Torbay beach as part of work to improve the area in 2017. The Torbay Beach Elegy mural measures 4ft high by 130ft wide.
Song says, "The omnibus mural depicts the life of Torbay beach; birth and funeral. There was caplin fishing using Newfoundland pony right on the Torbay beach. The local fisherman is a guardian spirit of the place and a giant octopus caught in Torbay (using The Great Wave Off Kanagawa)."
To hear personal stories about the place while you are there, look for the "Sheritage" (sharing + heritage) sign, dial the number and enter the code on your mobile phone.
Artist bio
Ginok Song is a Korean-Canadian visual artist. Ginok (gin-oak) grew up in the city of Pusan, South Korea. She decided to pursue her interest in art professionally in 1992, then earned a Bachelor of Fine Arts with a major in Painting at Pusan National University, South Korea in 1998. After meeting the love of her life, she moved to St. John's, NL in 2000. Ginok continued to make art and exhibited throughout the province. Ginok is influenced by Atlantic Realism (or magic realism) and her interest is representation within the realism with a woman's perspective. Self-knowledge and womanhood deeply concerned Ginok, so she further explored limits and possibilities of women's representation while pursuring a Masters of Philosophy in Humanities at Memorial University. Ginok persists in her effort to visualize identity, gender ambiguity and difference through the mediums of painting, mural and printmaking. Her works appear in numerous private and public collections in Canada, UK and Korea. Ginok resides and works in Petty Harbour, NL.
ginoksong.com