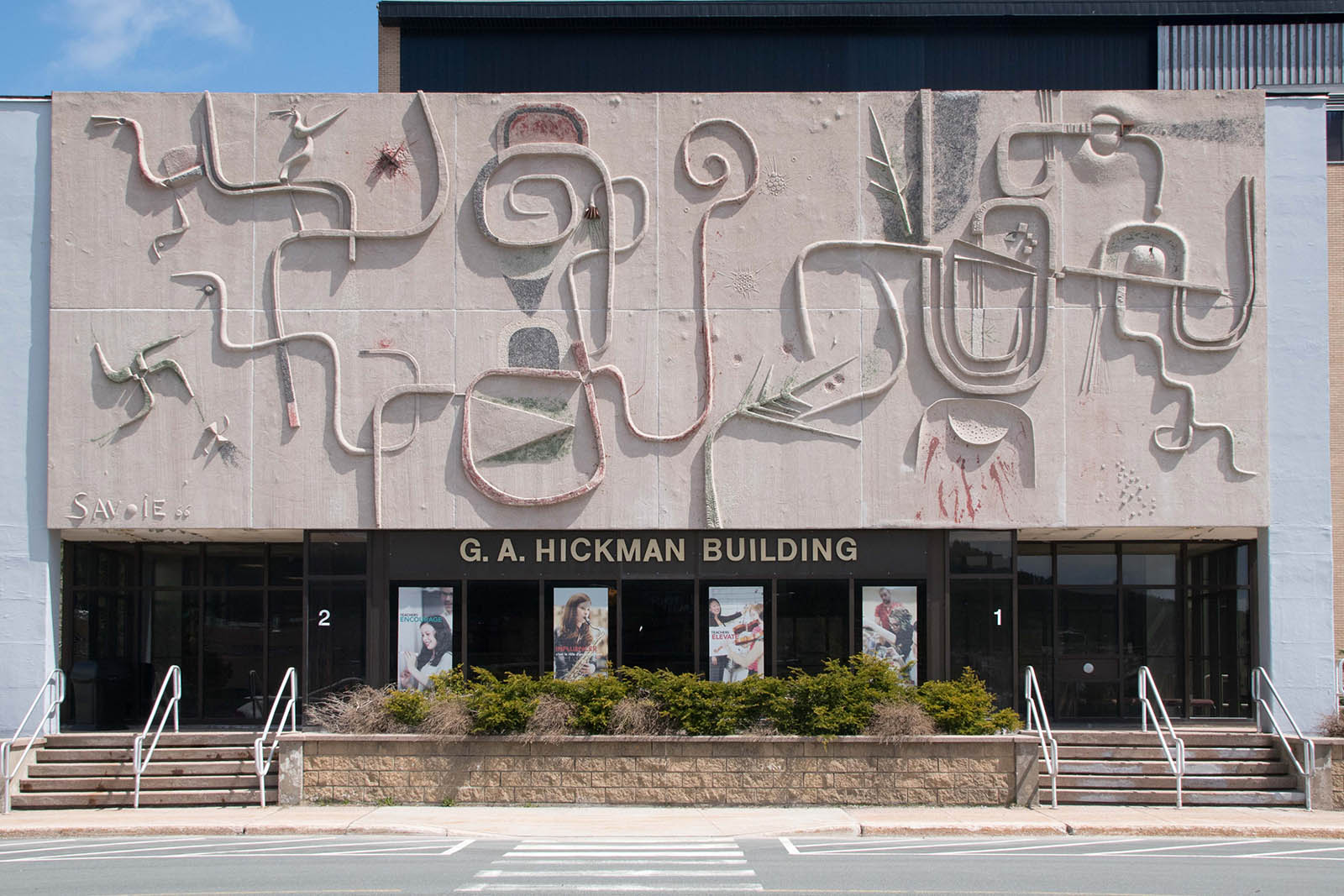 Photograph by Bob Brink
⇦ back
Unknown
by Maurice Savoie
Mixed Media 
(Clay and pigments)
MUN Education Building, St. John's
283 Prince Philip Drive, St. John's, NL A1B 3X7
Go to map ↓
Maurice Savoie began creating large-scale ceramic works for architectural settings in the 1960s. In 1966, Savoie was commissioned to design and install a concrete mural above the main entrance of Memorial University's new G.A. Hickman Building.
The 1,200 sq. ft. concrete relief sculpture comprises 12 ten-foot square panels and depicts "an abstract composition of raised forms, embedded colored stone aggregate, inscribed textures and applied splashes of pigmented colours," as noted by Conservation Solutions Inc. Some of these forms may represent flora and fauna of Newfoundland and Labrador.
The mural underwent restoration in 2017 after showing signs of deterioration, which included replacing missing pieces, repairing surface cracking, and removing biogrowth and biogrowth staining on the concrete surface. You can follow the link to read more about the mural restoration process carried out by Conservation Solutions Inc.
Artist bio
Maurice Savoie was born in Sherbrooke, QC in 1930. He studied at the Montreal School of Fine Arts, the National School of Decorative Art in Limoges, France, and the Centro Internationale della Ceramica in Italy. He was best known for his works that were integrated into the architecture of buildings, including the Quebec Pavilion at Expo '67.
studioceramicscanada.com/maurice-savoie