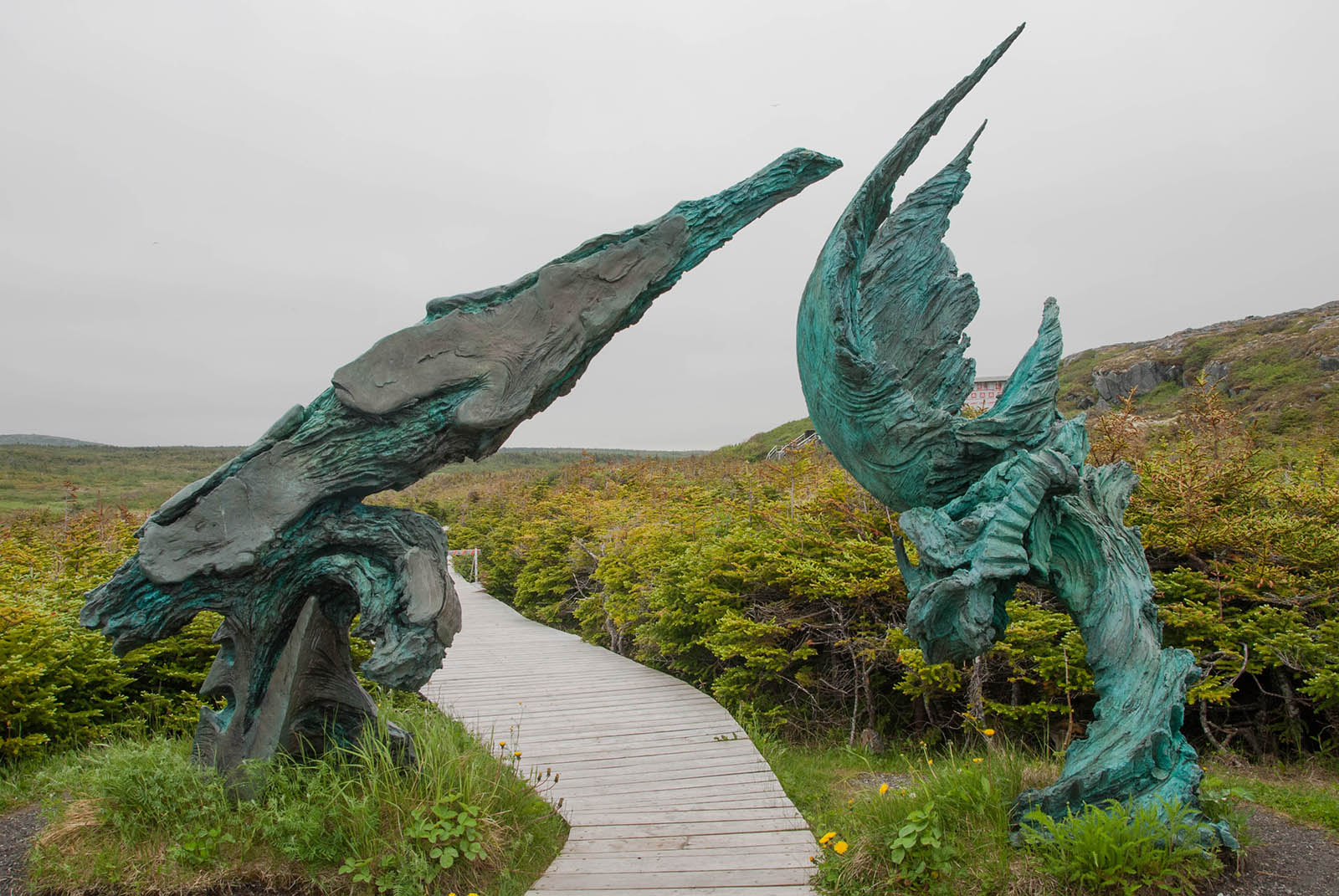 Photograph by Bob Brink
⇦ back
The Meeting of Two Worlds
by Luben Boykov and Richard Brixel
L'Anse aux Meadows National Historic Site, L'Anse aux Meadows
Division No. 9, Subd. D, NL A0K 2X0
Go to map ↓
Located at the tip of the Northern Peninsula, L'Anse aux Meadows National Historic Site is an archaeological site where remains of a Norse settlement dating back 1,000 years were found. There were also discoveries of settlements of five different Indigenous groups in the area before the Vikings and at least one group after the Vikings' departure.
On the walking trail between the Visitor Centre and the archaeological site, The Meeting of Two Worlds, a collaborative work by Newfoundland sculptor Luben Boykov and Swedish sculptor Richard Brixel (1943 – 2019), symbolizes the historical significance of human migration to North America, from the east through Asia, and from the west through Europe. The two groups met when the Norse landed at L'Anse aux Meadows. The sculpture consists of two works; the "pointed" piece is by Boykov, and the other is by Brixel.
At the unveiling of the sculpture in 2002, then Governor General Adrienne Clarkson reminded us that one of the important messages of the sculpture was that the "Vikings didn't come to an empty land...it was a land already inhabited by Aboriginal people. The Europeans came after, then came all sorts of other people. That is the continuity of our history. This is what is important to remember - that others were here before the original European settlers who arrived 400 years ago."
Artist bio
Luben Boykov was born in 1960 in Sofia, Bulgaria, and immigrated to Canada in 1990. He is a graduate of the Academy of Fine Arts in Sofia. He has been inducted into the Royal Canadian Academy and awarded the Queen's Diamond Jubilee Medal for his extensive and widespread output of sculptures and exhibitions.
lubenboykov.com