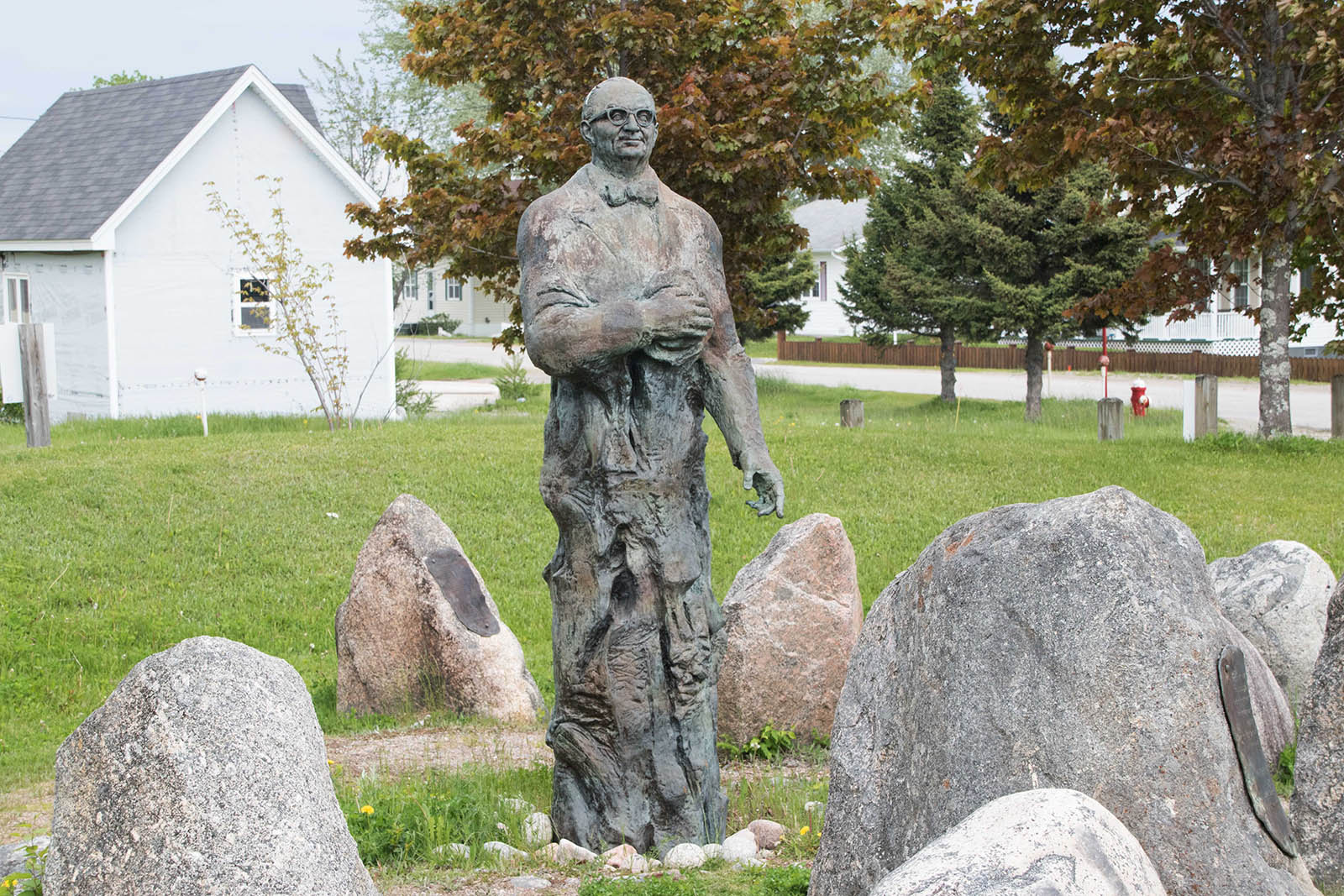 Photograph by Bob Brink
⇦ back
Joseph R. Smallwood Monument
by Luben Boykov
Smallwood Interpretation Centre, Gambo
Station Rd., Gambo South, NL A0G 2E0
Go to map ↓
Located on the grounds of the Village Green (across from the Smallwood Interpretation Centre) in Gambo is an eight-foot bronze statue of Joseph Roberts Smallwood, or "Joey," as most Canadians know him. The first premier of Newfoundland and Labrador, serving from 1949 to 1972, Smallwood was responsible for Newfoundland joining Canada in 1949. The monument is one of Boykov's earlier works.
Unlike many statues traditionally placed atop a tall plinth, Boykov's Smallwood statue stands tall on the ground, surrounded by many large boulders. Boykov indicated "the boulders are reminiscent of the cheering crowd of Newfoundlanders carrying J.R. Smallwood on the campaign trail or after one of his numerous political victories," adding that "the sculpture is paying tribute to a politician of enormous stature, as well as to an ordinary down-to-earth man."
Artist bio
Luben Boykov was born in 1960 in Sofia, Bulgaria, and immigrated to Canada in 1990. He is a graduate of the Academy of Fine Arts in Sofia. He has been inducted into the Royal Canadian Academy and awarded the Queen's Diamond Jubilee Medal for his extensive and widespread output of sculptures and exhibitions.
lubenboykov.com