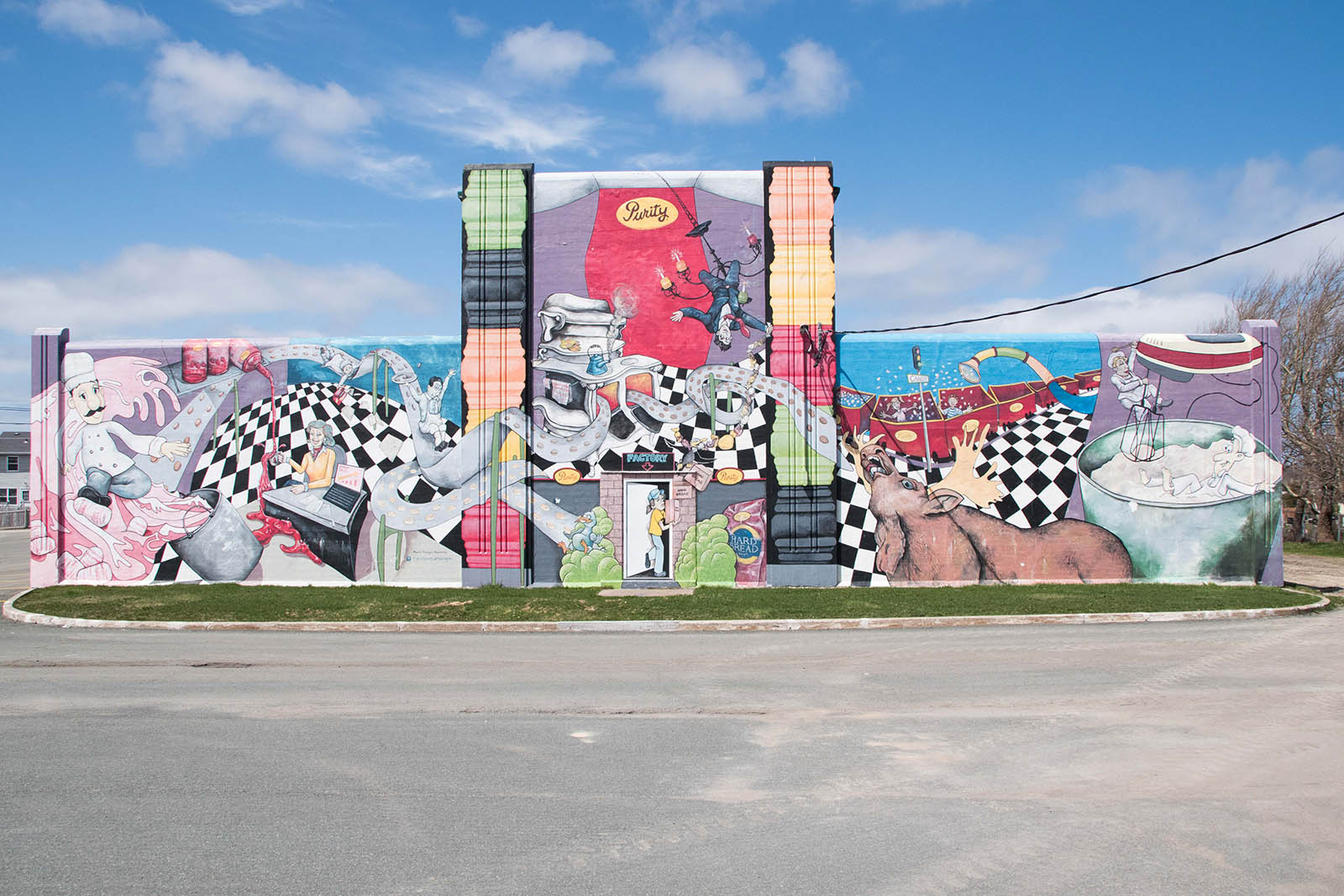 Photograph by Bob Brink
⇦ back
Mayhem at the Bakery
by Don Short
Mural 
(high adhesion acrylic paint)
Purity Factory, St. John's
96 Blackmarsh Rd, St. John's, NL A1E 1S8
Go to map ↓
Don Short was commissioned to create a mural to replace an old mural on the exterior front wall of the Purity Factories building. Short's new mural covers the entire front wall at 90 feet wide and 40 feet tall and took 41 days to complete.
When asked by CBC about his goal for the mural, Short said he wanted it to be vibrant in colour.
Watch the video for Short's description of the images depicted on the mural.
Artist bio
Toronto-based artist Don Harrison Short is a travelling artscaper known nationally for his large format mural painting and teaching savvy. With over 25 years in the visual arts, Don offers a colourful portfolio with a diverse range of skill in illustration, graphic art and fine art. Don has taught art privately and publicly, participated in numerous solo and group art exhibitions, and painted large murals in residential, commercial and public spaces. He holds two certificates in visual arts, a diploma in graphic layout and design, and has received many national awards for his accomplishments. His newsworthy mural installation at Purity Factories in St. John's, Newfoundland garnered a CBC interview and was named the top 8 reason to have a weekend getaway in St. John's by the Toronto Star. Don's output of creative work results in enjoyable, relevant images that present a positive, poetic interpretation of life. His portfolio of mixed-media artworks centers on the strength of the human spirit as it awakens in times of change and transition. Don's artwork speaks as quietly as it does loudly. What may not be noticed upon initial viewing of his canvases slowly comes to the surface, allowing the viewer to share in the artist's vision; that the journey is often more paramount than the destination.
Don Short's Website