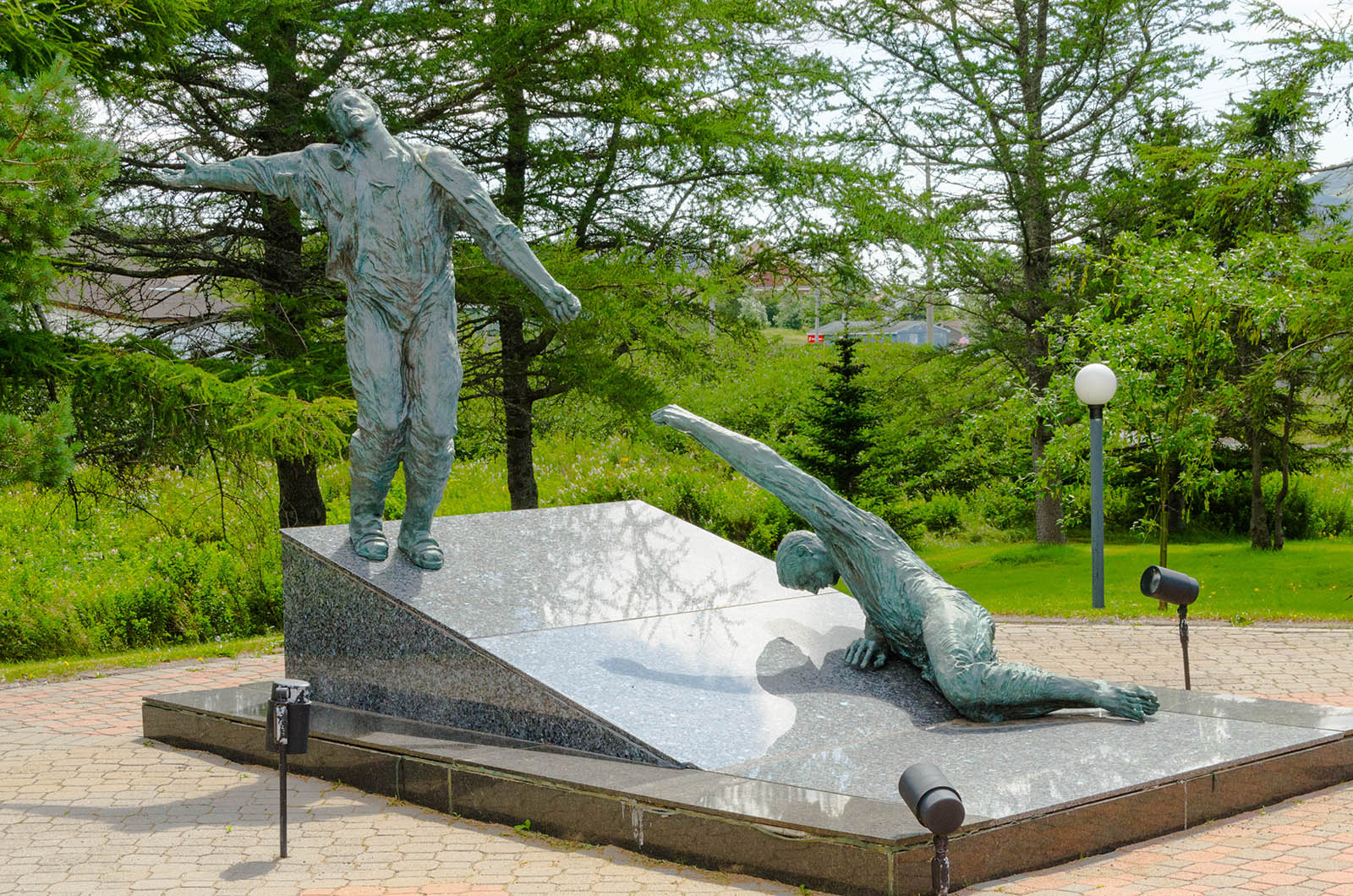 Photograph by Bob Brink
⇦ back
Echoes of Valour
by Luben Boykov
Municipal Centre, St. Lawrence
St. Lawrence, NL A0E 2E0
Go to map ↓
On February 18, 1942, two U.S. naval ships ran aground off the Burin Peninsula, near the towns of St. Lawrence and Lawn, killing 203 seamen. Thanks to the heroic efforts of the people of the two communities, there were 186 survivors. The Historical Society of St. Lawrence approached Luben Boykov and commissioned him to create a sculpture to commemorate the 50th anniversary of the tragedy in 1992.
The memorial is Boykov's first public commission in Newfoundland. It was only two years earlier, in 1990, that Boykov and his family arrived in this province from Bulgaria.
Boykov's sculpture consists of two life-sized figures depicting a miner pulling a drowning sailor from the water. Boykov said that after talking to the people of St. Lawrence, he realized the sculpture was more than remembering the event; it was also the symbol of the town, reflecting the courage and resilience of the people of St. Lawrence.
Artist bio
Luben Boykov was born in 1960 in Sofia, Bulgaria, and immigrated to Canada in 1990. He is a graduate of the Academy of Fine Arts in Sofia. He has been inducted into the Royal Canadian Academy and awarded the Queen's Diamond Jubilee Medal for his extensive and widespread output of sculptures and exhibitions.
lubenboykov.com