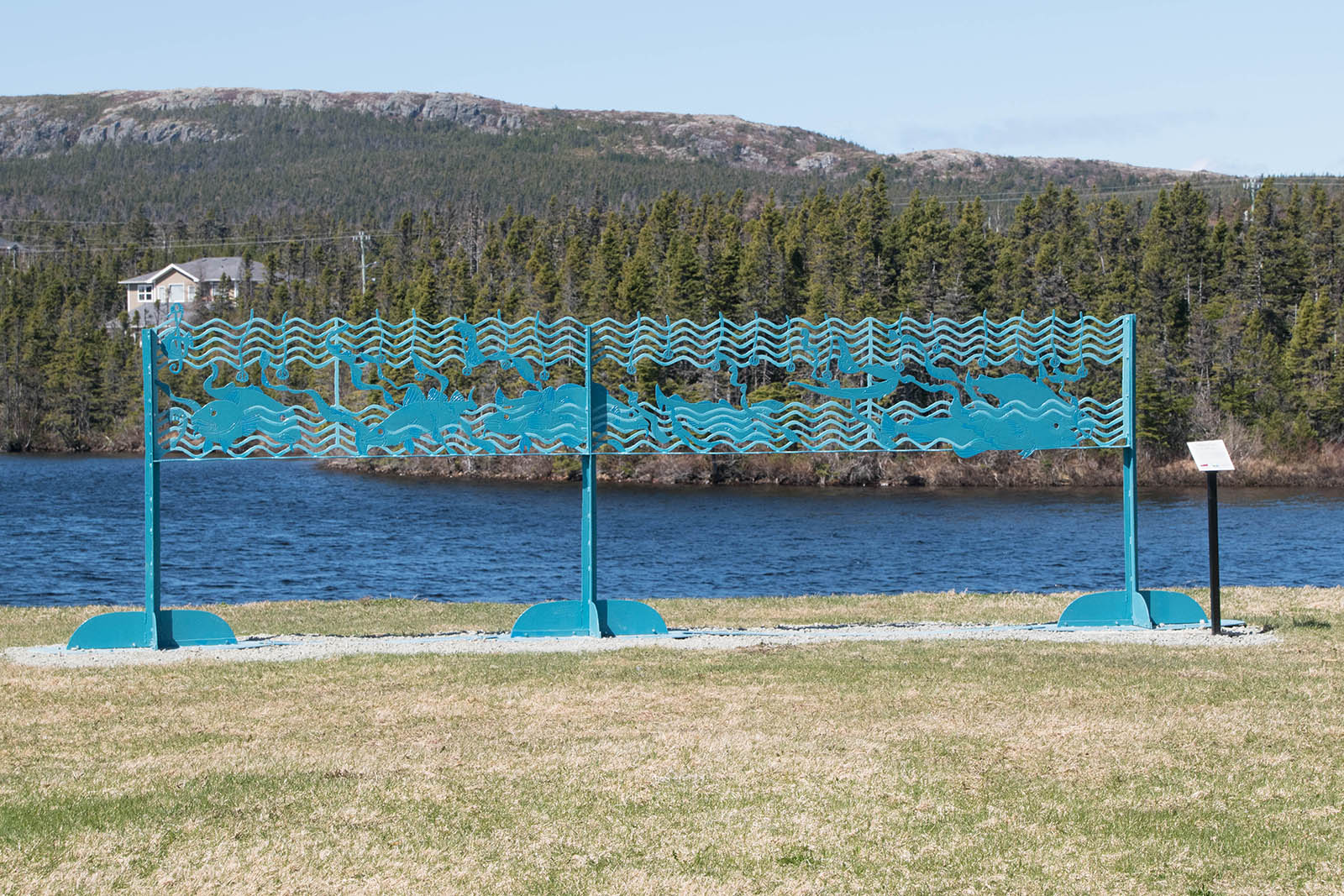 Photograph by Bob Brink
⇦ back
Water Music
by Don Foulds
Shoe Cove Pond, Pouch Cove
217 Main Rd. Pouch Cove, NL, A0A 3L0
Go to map ↓
Don Foulds responded to an open call and won the competition to create an art piece for the Pouch Cove Sculpture Garden in Shoe Cove Pond Park. This is the first public art project implemented by the Pouch Cove Public Art Committee, a community-led initiative bringing arts and other groups together to increase interest in public art in the community. Foulds is a supporter of integrating art in the community and believes that art can "enhance the character of the community and the level of engagement and activity by people in the community."
The image of the sculpture is drawn from the introduction notations of George Frideric Handel's Water Music. Fishhooks, seaweed, fish eyes and waves replace the traditional musical staff and notes. The artist encourages park visitors to walk along with the sculpture, moving up and down with the rhythms or looking through the fish eyes - be playful.
Artist bio
Don Foulds is a sculptor and teacher. He is originally from Saskatoon, where he worked full time as a sculptor for 15 years before teaching at the University of Saskatchewan and running the Gordon Snelgrove Art Gallery. Throughout the 1980s and early 1990s, he was also involved in coordinating the Emma Lake Artists' Workshops. He taught in the visual arts program at Memorial University's Grenfell Campus from 1995 - 2018. His artworks have been widely exhibited across Canada and internationally and he is represented in many public, corporate and private collections. A notable public artwork in St. John's is the Newfoundland and Labrador Police and Peace Officers' Memorial, 2004, located beside the Confederation Building.
donfoulds.com