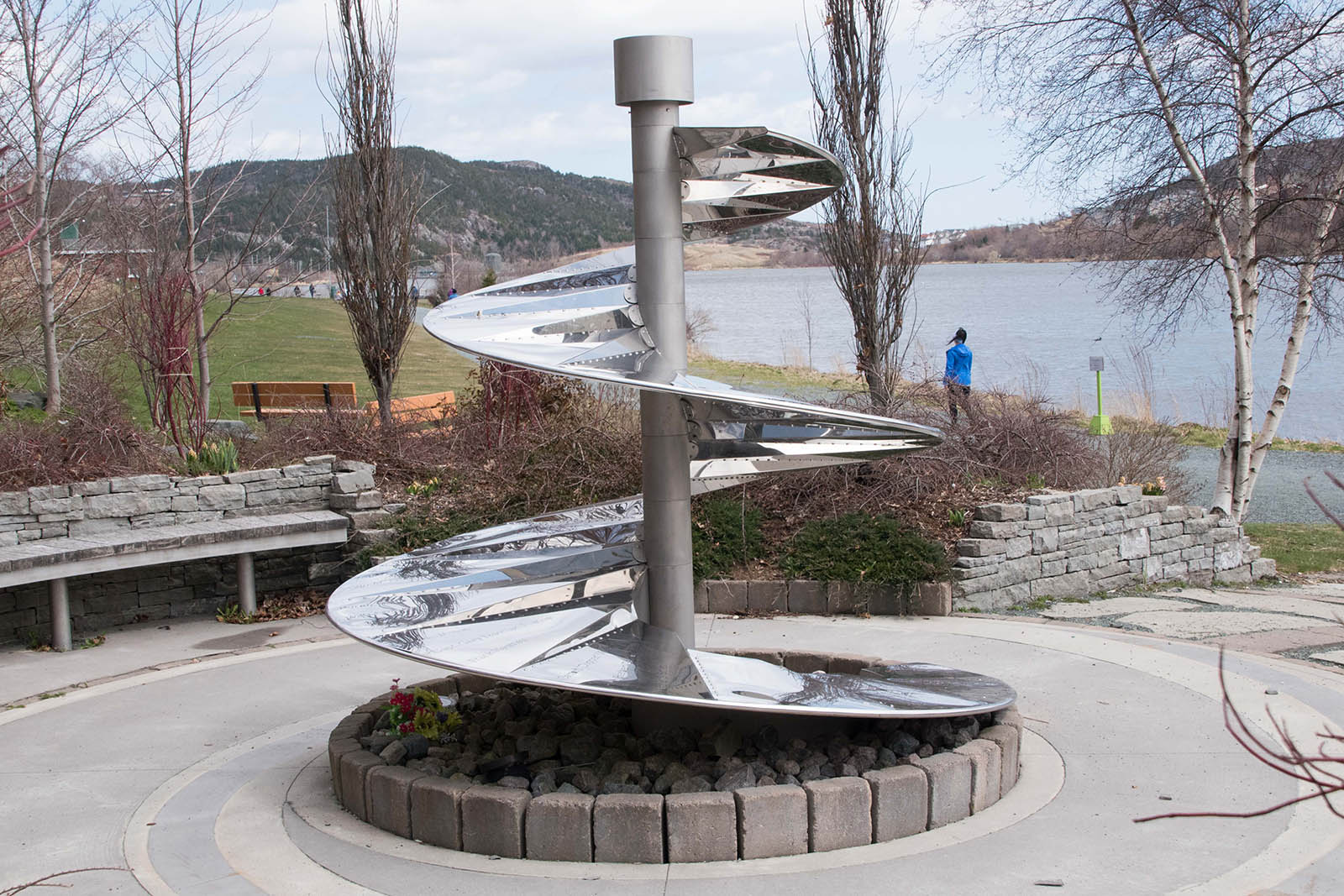 Photograph by Bob Brink
⇦ back
The Offshore Helicopter Accident Memorial
by Luben Boykov and Frederick Hann
Sculpture 
(Stainless steel)
Quidi Vidi Park, St. John's
157 The Boulevard, St. John's, NL A1A 1K3
Go to map ↓
The memorial commemorates victims of two helicopter crashes: On March 13, 1985, a Universal Helicopter crashed in Placentia Bay, killing six people; and on March 12, 2009, a Cougar Helicopter crashed into the North Atlantic, killing 17.
Designed by Luben Boykov and Frederick Hann, the stainless steel spiral sculpture is "representative of the aerial screw prototype of the first rotary-type flying machine envisioned by Leonardo da Vinci in the 16th century. Along the spiral of the aerial screw, the names of the 23 victims of both helicopter tragedies have been cut into the stainless steel. Light is the prominent feature of the memorial, shining skyward through the open cutwork of the names." (Dept. of Tourism, Culture, Arts and Recreation)
Artist bio
Luben Boykov was born in 1960 in Sofia, Bulgaria, and immigrated to Canada in 1990. He is a graduate of the Academy of Fine Arts in Sofia. He has been inducted into the Royal Canadian Academy and awarded the Queen's Diamond Jubilee Medal for his extensive and widespread output of sculptures and exhibitions.
lubenboykov.com