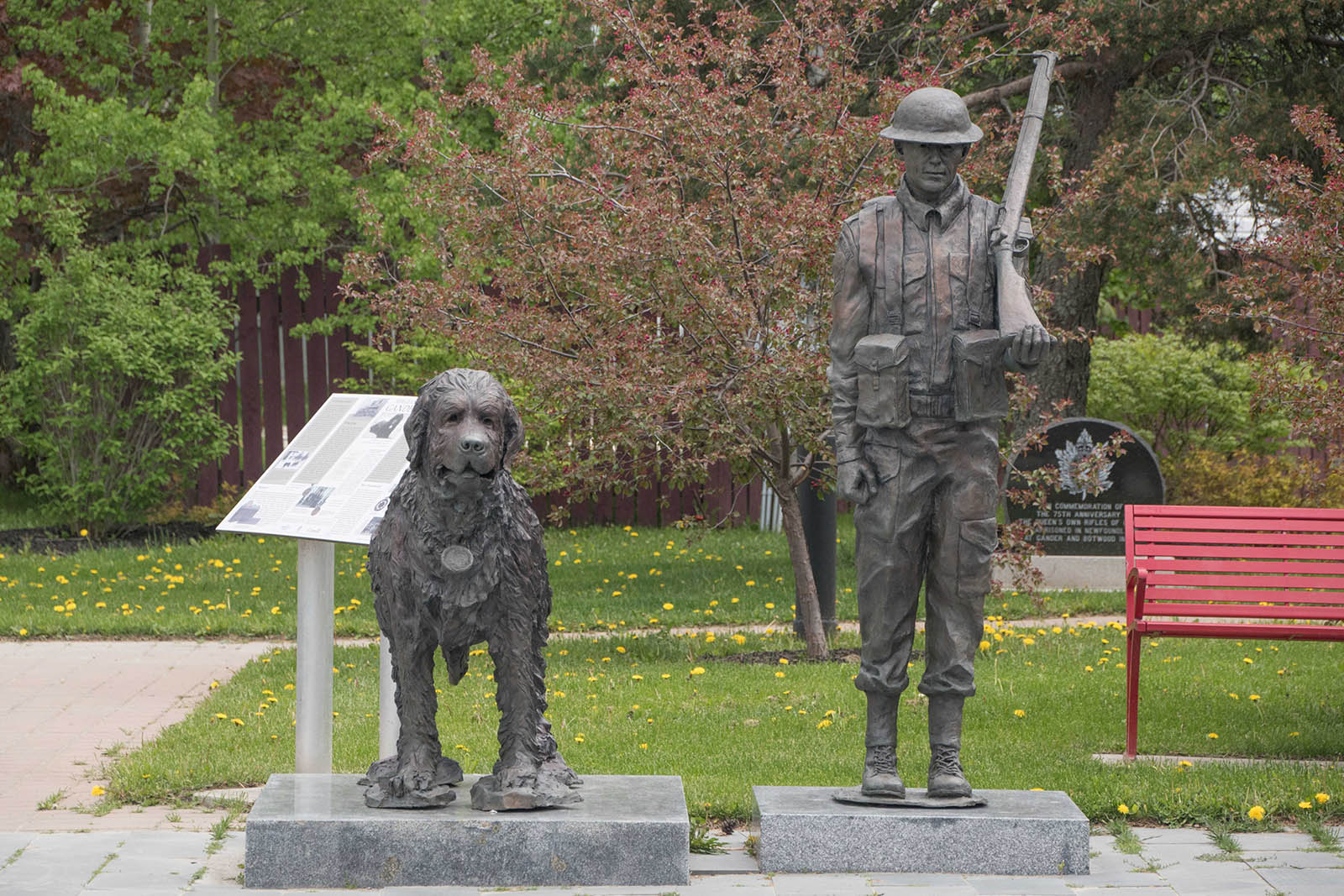 Photograph by Bob Brink
⇦ back
Sgt. Gander and His Handler
by Morgan MacDonald
Gander Heritage Memorial Park, Gander
10 Lindbergh Road #2, Gander, NL A1V 1T8
Go to map ↓
The memorial to Sgt. Gander is a gift to the children of Gander from former students who attended the 2010 school reunion. The statue of Sgt. Gander, the Newfoundland War Dog, and his handler, a member of the Royal Rifles of Canada, are the works of sculptor Morgan MacDonald.
Sgt. Gander, or Pal, a Newfoundland dog, spent time on the airport base in Gander during WWII and became the mascot for the Royal Rifles of Canada Regiment. In October 1941, the regiment was sent off to fight the war in Hong Kong and brought Sgt. Gander with them. Sadly, on December 19, 1941, while picking up a hand grenade and carrying it away from the soldiers, the grenade exploded and killed Sgt. Gander. His heroic act saved the lives of seven soldiers. He was awarded the Dickin Medal for "acts of conspicuous gallantry and devotion to duty in wartime."
Artist bio
Morgan MacDonald holds degrees in Fine Art (Grenfell) and Business (Memorial), and runs his Newfoundland Bronze Foundry from Logy Bay, NL. He uses lost wax casting to create works that are highly realistic and technical in nature with an emphasis on our deepest expressive human qualities. He is the recipient of the Memorial University 2016 Horizon Awards for outstanding achievement under the age of 35.
morgansculpture.ca