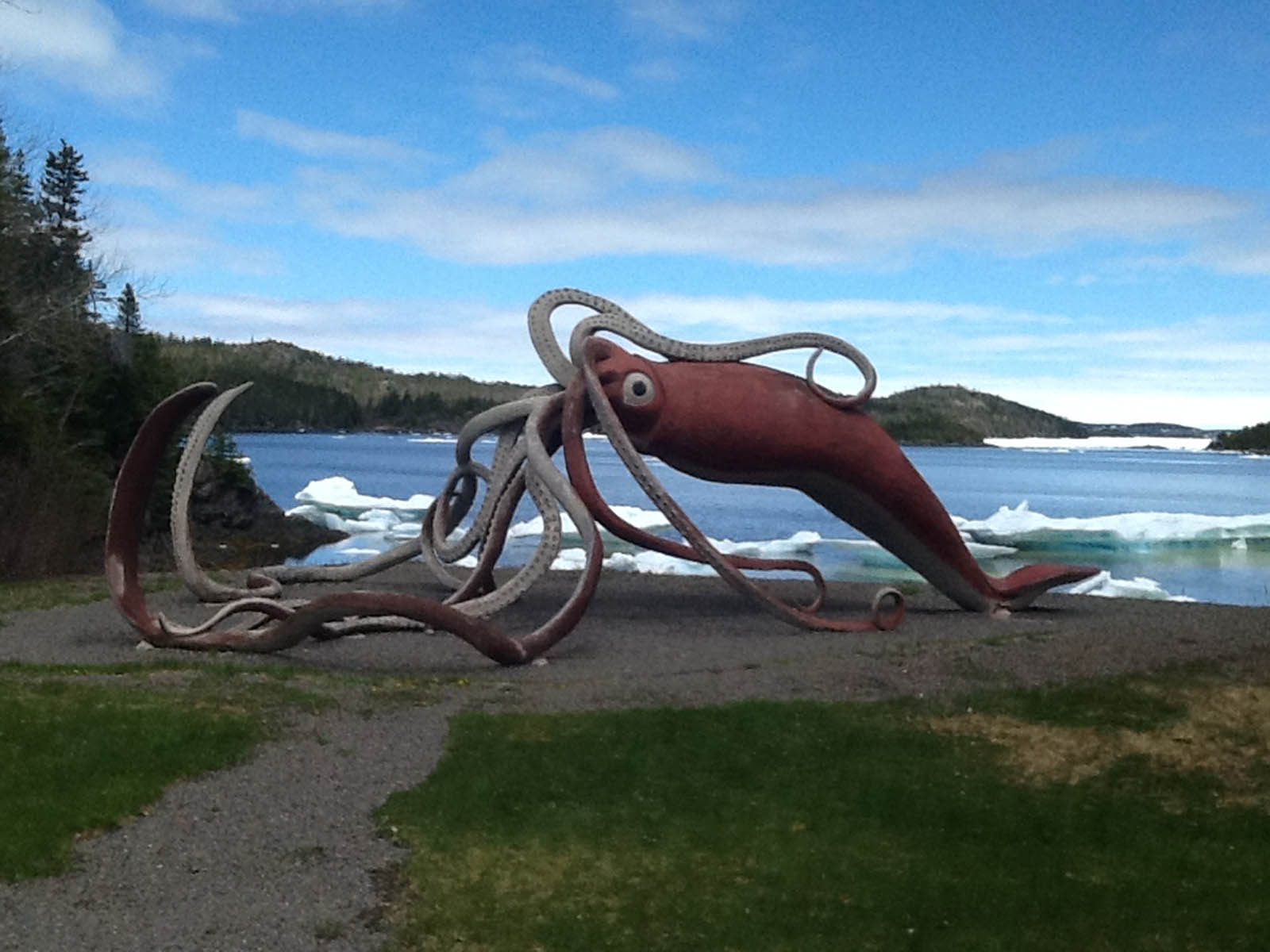 Photograph by Ida Haggett
⇦ back
Giant Squid
by Don Foulds
Sculpture 
(Concrete and steel)
Giant Squid Interpretation Site, Glovers Harbour
Glovers Harbour Rd., Leading Tickles, NL A0H 1T0
Go to map ↓
In 1878, a 55-foot squid washed ashore on the beach of Glovers Harbour (formerly known as Thimble Tickle Bay). Morris Martin remembered the story of the giant squid told by his grandfather, Joseph Martin (1838 – 1920), founder of Glovers Harbour. The Guinness Book of Records also recognized the squid as the largest in the world.
In 2001, to mark the occasion and increase tourism to the community, a giant squid replica was commissioned. Don Foulds and his students worked on the sculpture for five months. The sculpture is located on the grounds of the Giant Squid Interpretation Site. You can follow the links to watch the 2004 CBC News report to learn about the monument, how it was built and what it means to the community, and the 2021 video presented by Heritage Newfoundland and Labrador documenting numerous giant squid encounters in Newfoundland from 1870-1882.
Artist bio
Don Foulds is a sculptor and teacher. He is originally from Saskatoon, where he worked full time as a sculptor for 15 years before teaching at the University of Saskatchewan and running the Gordon Snelgrove Art Gallery. Throughout the 1980s and early 1990s, he was also involved in coordinating the Emma Lake Artists' Workshops. He taught in the visual arts program at Memorial University's Grenfell Campus from 1995 - 2018. His artworks have been widely exhibited across Canada and internationally and he is represented in many public, corporate and private collections. A notable public artwork in St. John's is the Newfoundland and Labrador Police and Peace Officers' Memorial, 2004, located beside the Confederation Building.
donfoulds.com